Key events
And here's our report of tonight's actionwhere Max Verstappen continued a season of relentless supremacy. That's all folks!
And here's Verstappen: "The start helped me out a lot for the rest of the race. We were also on a different strategy to the other cars around us but again, an incredible result. The pace of the car was really nice. We had to look after our tires because it was a really long stint on the mediums but we made it work.
"It's an incredible atmosphere and we love to come here. It's been an incredible year so far, we are definitely enjoying it and we'll try to go for more [wins]."
Sergio Perez: "I gave my best today at the start – I really pushed hard. Unfortunately we had a bad stop to prevent us undercutting Lewis. Then behind him, it was difficult to follow so I had to stay in third. Still, it's a good podium and in front of this crowd – I really wanted more today but third is still good."
Lewis Hamilton speaks: "This has been an amazing crowd, I have so much love for Mexico and the people here. I was so close in that first stint, but the Red Bulls were too quick today and maybe they had the better strategy. I'm not sure [the hard] was the right tire in the end."
How they finished
1 Max Verstappen (Red Bull)
2 Lewis Hamilton (Mercedes)
3 Sergio Perez (Red Bull)
4George Russell (Mercedes)
5 Carlos Sainz Jn (Ferrari)
6 Charles Leclerc (Ferrari)
7 Daniel Ricciardo (McLaren)
8 Esteban Ocon (Alpine)
9 Lando Norris (McLaren)
10 Valtteri Bottas (Alfa Romeo)
Max Verstappen wins the Mexican Grand Prix
And that's that – never in doubt. The Dutchman cruises over the line to wrap up his 14th win of the season: a new F1 record. Not a "pure" record of course, given how he benefits from a busier calendar, but it is a fair token of his laughable dominance this season all the same. Hamilton scoots home just after him and local hero Perez third
Lap 70/71: Ferrari will be far from happy with their day – Sainz and Leclerc are set to finish 5th and 6th, and never troubled the top four. Verstappen will be crossing the finish line shortly …
Lap 68/71: Russell skitters though debris and tells his team that his tires are gone but is told to stay out. Fourteen seconds the gap to Verstappen now – a veritable cakewalk. Gasly picks off Albon for P11 and eyes Bottas in the last points spot.
Lap 66/71: Alonso's Alpine suffers an out-of-the-blue engine failure and the Spaniard trundles off track at turn one. Virtual safety car.
Lap 63/71: Ricciardo continues his hot streak, steaming around Ocon for P8.
Lap 59/71: Penalty aside, the last few lapses have worked out well for Ricciardo, who now sees off Bottas for P9. Verstappen is well in command now and looks like he could get away with a one-stopped
Lap 57/71: It'll be a 10sec penalty for Ricciardo. Meanwhile up top, Hamilton trails Verstappen by just under 12secs, with Perez closing in on DRS territory of the Mercedes man.
Lap 55/71: And Tsunoda's race is run. After that collision, his battered car slinks into the pits and won't be coming out. "What Ricciardo was doing?" he barks into his radio (that's the family-friendly version). The stewards will have to find an answer to that.
Lap 53/71: There's a good old scrap for P11 between Ricciardo and Tsunoda, who collide as the Australian takes advantage of DRS to skirt down the inside of his rival, the AlphaTauri bouncing into the air!
Lap 49/71: Verstappen hits the 10sec milestone and laps Latifi while he's at it. Perez hangs back in the fight for second – and he can afford to do so as Russell is 7secs off him.
Lap 45/71: Both Mercedes drivers are complained about their tire grip since pitting. And Verstappen has sped clear in the last couple of lapses to extend his lead towards the 10sec mark. A grouchy Bottas looks to reclaim P10 from Ocon but the Frenchman isn't having any of it.
Lap 42/71: Ocon rattles past Bottas for the final points place. Russell is now asking about a possible second stop…
Lap 40/71: We now have ourselves a chess game, with the front three all on different strategies: Verstappen, on the quicker compound, is 9secs ahead of Hamilton, who is on hards. The question is whether Verstappen can make his tires last the distance. Behind Hamilton is Perez who pitted first, switched to mediums, and is now the fastest man on track.
Lap 35/71: Russell finally pits and comes out with hards, as Hamilton did. Hamilton is now restored to second, and has been matching Verstappen pace since coming out of the pits.
Lap 34/71: Norris pits and opts for hard. "We are good on any tire today, the car feels good," breezes Alonso. Meanwhile the current leader is feeling confident. "Let's put soft on at the end," says Russell. "We need to go very long to make that work," comes the reply.
Lap 33/71: So Russell has inherited the lead, trailed by Verstappen, Hamilton and Perez, who have all pitted. Both Ferraris now head in.
Lap 31/71: Verstappen turns the radio waves blue with some gripes about his gear shifts. Then Hamilton ducks into the pits from leads and comes out with a set of hards. Is he aiming for a one-stopper?
Lap 28/71: The volume in the stands increases tenfold as Perez attacks Leclerc and makes the move stick – he now splits the Ferraris in P5.
Lap 26/71: Red Bull go again, beckoning Verstappen into the pits – and this time they nail it, the Dutchman emerging ahead of the Ferraris in third. Hamilton now leads followed by his teammate Russell. Your move, Mercedes.
Lap 24/71: Perez pits first, and it's a wince-inducing five-second extravaganza. He returns to the fray in sixth, with a new set of mediums, behind the Ferrari duo.
Lap 23/71: Verstappen is complaining about bouncing, though any discomfort he'd feeling has not been reflected in the first third of the race, throughout which he has maintained a steady lead. And Ferrari are being shut out of the race here with Sainz and Leclerc languishing in P5 and 6.
Lap 21/71: Leclerc, stuck in traffic in sixth and making little headway, has asked for Plan C – whatever that is. Russell meanwhile is very slowly eating away at the gap between him and Perez, which is now around a second and a half.
Lap 18/71: The gaps are opening up now: Verstappen leads Hamilton by two seconds, Hamilton leads Perez by three. Gasly will get a 5sec penalty for forcing Stroll off the track as he went past him for 15th.
Lap 15/71: Verstappen says he's struggling for grip – as does Stroll – but holds a 1.75sec lead over Hamilton, who right now does not look like narrowing the gap.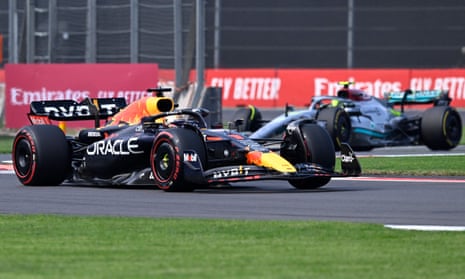 Lap 14/71: Bottas, who has lost three places in the early stages, attacks Alonso for P7 but the Spaniard fends him off and sneaks out of DRS range.
Lap 12/71: Word on the grapevine – AKA the Mercedes radio – is that Perez is struggling with his rear tires. Interesting… what does that mean for the rest of the drivers?
Lap 9/71: Ricciardo snaffles up DRS on the straight and streaks past Zhou for P12. Up top, the gaps between Verstappen, Hamilton and Perez are staying sread at about 1.5secs each.
Lap 6/71: "You're in a very good position here," Bottas is told over the radio. "Plan A… you need to stick to Plan A." Would that mean a one-stopper?
Lap 4/71: Verstappen is well clear of DRS range of Hamilton, who is now looking over his shoulder at a hellbent Perez.
Lap 2/71: Perez also managed to get past Russell, who's dropped two places to fourth, while Leclerc sees of Bottas for P6. Stroll has jumped five places to P15.
Lap 1/71: Verstappen gets the start he wanted – away like lightning. Perez tries a move from wide, Russell responds, but by doing so is dragged wide and loses a place to his teammate Hamilton, who has begun with intent.
And we're off!
The drivers scurry off for the formation lap. Not long now …
how they start
1 Max Verstappen (Red Bull)
2 George Russell (Mercedes)
3 Lewis Hamilton (Mercedes)
4 Sergio Perez (Red Bull)
5 Carlos Sainz Jnr (Ferrari)
6 Valtteri Bottas (Alfa Romeo)
7 Charles Leclerc (Ferrari)
8 Lando Norris (McLaren)
9 Fernando Alonso (Alpine
10 Esteban Ocon (Alpine)
11 Daniel Ricciardo (McLaren)
12 Guanyu Zhou (Alfa Romeo)
13 Yuki Tsunoda (AlphaTauri)
14 Pierre Gasly (AlphaTauri)
15 Mick Schumacher (Haas)
16 Sebastian Vettel (Aston Martin)
17 Alexander Albon (Williams)
18 Nicholas Latifi (Williams)
19 Kevin Magnussen (Haas)
20 Lance Stroll (Aston Martin)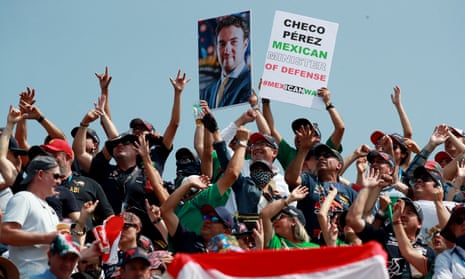 Kevin Magnussen has had an issue with his car – a loose rear tire, apparently – but all seems to be well now. He went back into the garage for a while but has been given the all-clear.
And a happy Día de Muertos to you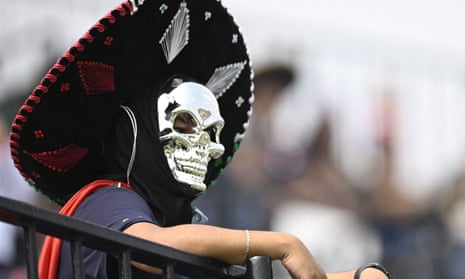 Fernando Alonso is feeling bullish. "I've been not so good normally in Mexico on the first couple of lapses. Hopefully today we overtake Lando [Norris, ahead of him in P8], especially starting on the clean side, but then it's going to be a very long race. Temperature, brakes – it's going to be very demanding."
A reminder of this week's off-track fallout:
It's Charles Leclerc's 100th grand prix today. The previous 99 have brought five wins, eight in second place and 10 in third. What chances of a 23rd podium finish in Mexico City?
All set for another Verstappen victory? Not so fast: the last time a driver won from pole was way back when in 2016, when Hamilton took victory. In fact, that was the last time the pole-sitter here finished on the podiumthat long run to turn one adding an element of glorious chaos.
The Checo-worship is up and running: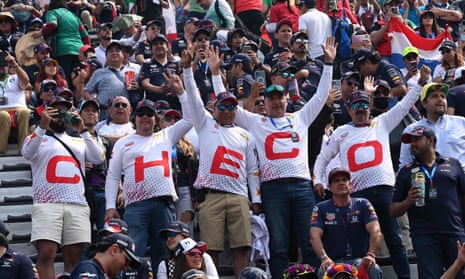 How do you measure greatness? On the one hand, it's one of sport's great unanswerables. On the other hand, clocking up the most wins in an F1 season would go some way to making Max Verstappen's case.
With the Dutchman's dominance having reduced the remainder of this season to an extended victory lap, the main issues at hand are either political – see this week's fallout over Red Bull's penalty – or the philosophical: ie working out Verstappen's place in the pantheon. To that end, a win in Mexico City tonight would see him eclipse the record of Michael Schumacher and Sebastian Vettel with two meetings to go. Not half bad.
A strange quirk amid Verstappen's season of supremacy is his relative paucity of pole positions – six so far – but even that sliver of hope was not afforded to his rivals yesterday as he roared through an impressive final lap to secure pole by 0.304secs – a display that will have done little for his rivals' moral flagging.
That said, Mercedes, whose season never recovered from the early derailment – ​​bouncing, porpoising and all that – will be quietly confident going into this race after seeing their drivers qualify in second and third. With the pressure off and the technical issues allaying – both drivers raving about the car yesterday – will Mercedes make a statement of intent ahead of next season?
Meanwhile, Ferrari faces an uphill battle with Charles Leclerc starting seventh – the first time he's been outside the top three since Canada – and Carlos Sainz fifth. Sergio Perez will begin his home race from P4 in front of a packed house of revering fans. Can he give them a race to remember?
Lights out 8pm GMT.