Key events
64 mins: Senegal substitution: Ciss for Diatta
64 mins: One corner becomes two, and from the second, Miguel turns deftly just inside the area but then skews his shot horribly high and wide. But it's a free-kick to Senegal anyway.
63 mins: They have had a shot on target! Afif and Ali combine smartly on the edge of the area, and the latter's firm low drive is brilliantly turned behind by Mendy
61 mins: Chance for Qatar! Hassan looks up and has a crack from wide on the left, 25 yards out, and it's two or three inches wide. That shot on target may yet come.
59 mins: A half-chance for Senegal as Koulibaly's low cross from the right finds Diedhiou who turns and shoots but the effort is blocked.
57 mins: Afif leads another Qatar break and he has Ahmed in a good position to his right but he can't pick him out. A waste.
54 mins: Afif plays in al-Haydos down the right who draws a foul from Diedhiou (I think). The free-kick causes some bother in a packed area (Senegal had all 11 back) and another half-chance shot from Hassan is blocked.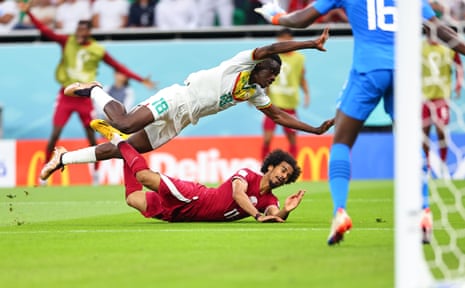 52 mins: Booking for Senegal's Jakob for a stray and dangerous elbow out on the left.
51 mins: Qatar nearly have their first effort on target when Hassan meets a raking free-kick from the left with a glancing header but he can't get enough on it and it drifts wide. And it's a free-kick against them for a crowd anyway.
Classic goal from a corner, that. It's skimmed in and Diedhiou advances to the near post, escapes his marker and angles a fine header into the opposite top corner. Qatar are heading for the exit.
Goal! Qatar 0-2 Senegal (Diedhiou 48)
And they score from the corner!
47 mins: There's very definitely not a full house for this, and it's Senegal's fans making more noise at the minute. Senegal win the first corner of the half when Sarr skips clear down the right but Hassan puts in a fine, clean tackle to thwart him
Peep! Senegal restart proceedings … no changes made by either side.
The players are back out …
The Beeb have helpfully reminded us that it's FA Cup second round weekend, and Kings Lynn v League Two surprise package Stevenage looks a good'un. Anyone going to a domestic game anywhere in the world tomorrow?
Half-time reading: a nice piece on Australia's Garang Kuol
Some email action. Richard Hirst writes: "Although as an England supporter I wouldn't want it to happen, I think you are wrong about a USA win against England ending Wales' chances. Arguably the most uncomplicated, albeit unlikely, way for Wales to progress is for the USA to beat England and Iran and Wales to beat England. That way USA finish with seven points, Wales four and England and Iran three. Simple!"
True, but if USA win tonight, England will have to field their strongest side against Wales; if England win, they won't. Southgate oversaw a dead-rubber flop against Belgium four years ago – more of the same would suit Wales.
"The Non-European teams are doing fine in this World cup," says Bogdan Katarlic. "they have a lot of players playing in the European clubs and also it seems to me that their FAs are more serious than they were before. What do you think why they have improved in the last few years?"
I think the European club game's a factor, both in terms of it containing, and schooling, more non-European players, but also a slight sense that for European players, club trumps country whereas the international game's a bigger deal elsewhere. But these are just random pub thoughts really.
Half-time: Qatar 0-1 Senegal
Senegal play out the remainder of the half with possession football, and that brings to an end a dominating first half from the African champions. It's not been a thriller and Qatar are on the verge of the quickest host-exit from a WorldCup. But they're only a goal down and have had the odd flurry.
Right, I'm off for a bit of apple cake and a sulk about Wales. Ben Fisher has described that more here. back in a bit.
45+6 mins: A half-chance as the ball is clipped forward for local hero Ali on the right of the area but Mendy comes out to claim.
45+5 mins: Afif, Qatar's best player so far, wins a corner on the left but it's headed clear and Diallo smartly wins Senegal a throw on the left.
45+3 mins: Diallo begins another attack with some elegant dribbling in his own half before it's worked out to Sarr on the right but his inaccurate cross is claimed by Barsham.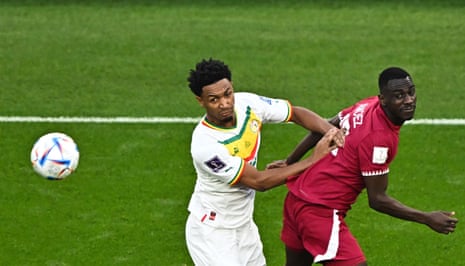 45+2 mins: Another Qatar booking, for Ahmed after a horribly unsubtle late lunge at Koulibaly.
45 mins: We'll have seven long minutes of stoppage time
44 mins: Barsham blooters a goalkick out of play on the right, and Mohamed hurts himself in a clash going for it with his teammate Pedro Miguel. Someone needed to shout for that. Qatar's level has dipped in the last 10 minutes after a better start.
Khouckhi miskicked a clearance inside the area, slipped and Dia pounced in an instant, rifling a low drive under the keeper. Senegal are off the mark.
Goal! Qatar 0-1 Senegal (Day 41)
It's been coming. Horrible mistake though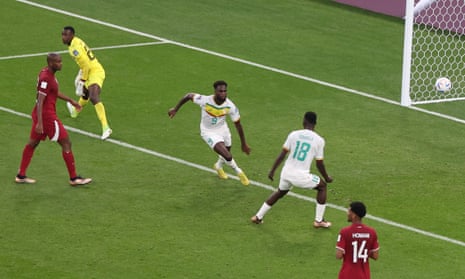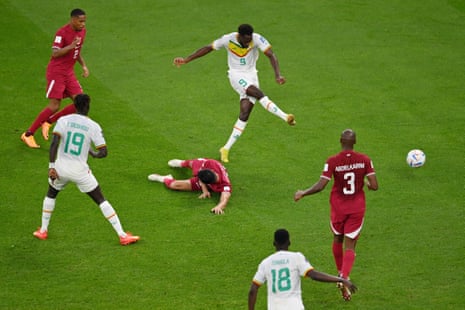 38 mins: Ahmed puts al-Haydos through on the left with a lovely sand-wedge of a pass but the captain can't beat his man. But Barsham then almost plays himself into trouble when he stumbles with ball at feet just outside the area, and Senegal are in the ancestry again. Barsham does look nervous too. Senegal should probably put him under more pressure.
36 mins: Nice interchange from Sarr and Diedhou plays the latter in just inside the area but he hesitates a fraction and Qatar clear. Senegal need to start making this count. Once again, that Mané-less cutting-edge issue dogs them.
34 mins: Penalty shout for Qatar! Madibo is neatly played in after a give and go on the left side of the area and Sarr bundles him over. He shuns VAR and Senegal are extremely lucky there, even though a home goal would have been absurdly against the run of play.
32 mins: Ahmed needs lengthy treatment after that foul but he's OK to continue.
"Senegal are still probably too good for Qatar," writes Kári Tulinius, "but it's remarkable how much more alert and aggressive Qatar is, in comparison to the opening game. If they'd played like this then, it would at least have been a contest. Ecuador may end up gaining the most from a WorldCup host buckling under pressure since Germany in 2014." What are people's favorite host-chokes? Italy v Argentina 90 was a memorable one. Spain v N Ireland 82? though they still got through.
30 mins: Barsham has a wobblier moment as he races rashly out to a long ball for Sarr but the forward can't make it count and Qatar clear. Then Dia is booked for bringing down Ahmed on halfway